The Voice of the Heart:
the working of Mervyn Peake's imagination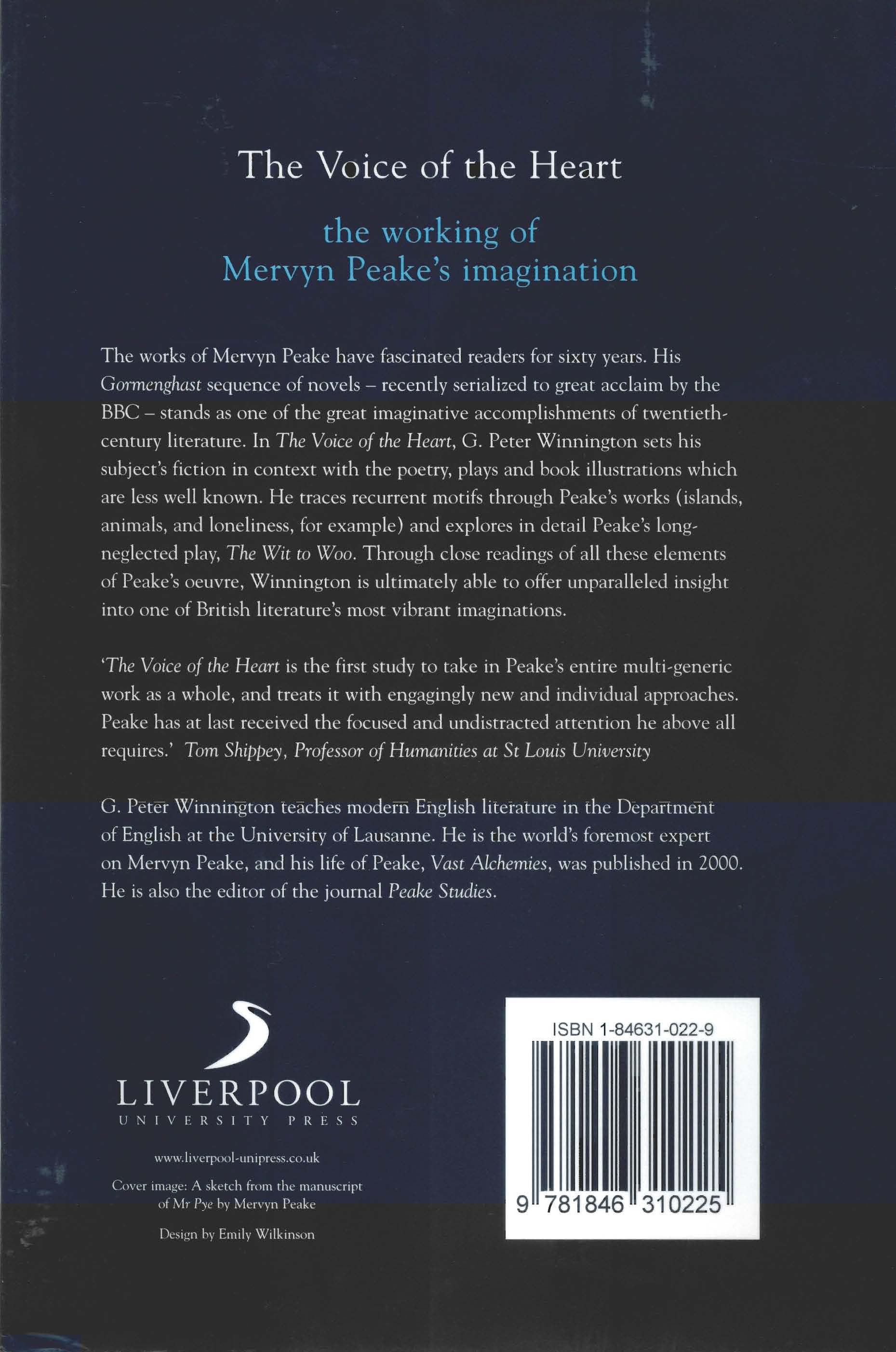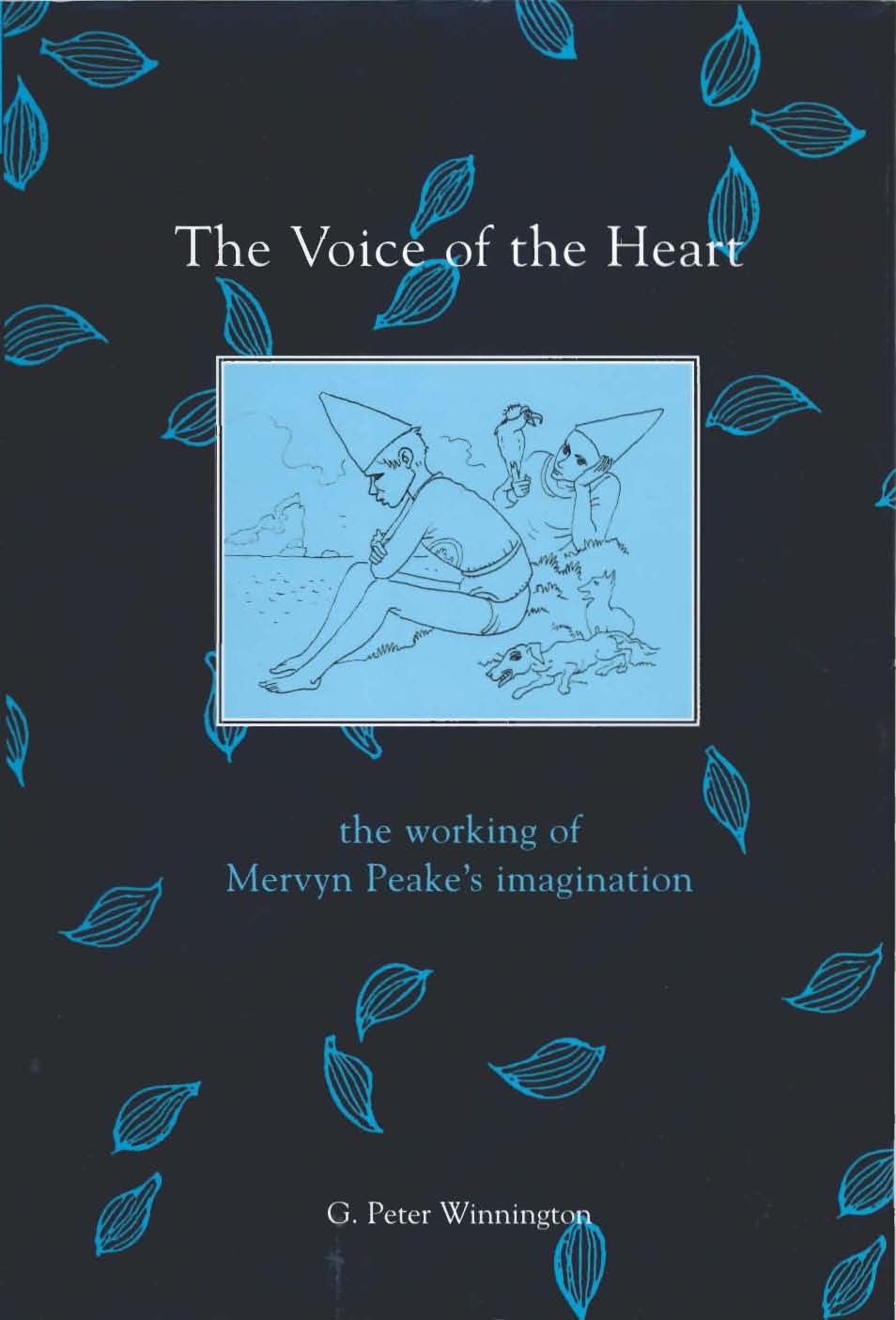 click to view the back cover as a pdf image
Now out of print in both hard- and paperback (but I have a few copies: contact me for details), The Voice of the Heart reveals the working of Mervyn Peake's imagination through the main themes and motifs of his fiction (Boy in Darkness, Mr Pye and the short stories in addition to the Titus books), his poetry, and his paintings, drawings, and illustrations. The final chapter shows how Peake's play The Wit to Woo shares and develops these same themes and motifs, applying them to art and the life of the artist. Fifty illustrations link his visual to his verbal art.
The book's table of contents and index are available for your convenience, and there is a page for corrections.
To write the book, I OCR'd as many of Peake's texts as I could (starting with the Titus books, Mr Pye, his plays, Collected Poems, and a great many shorter pieces, a total of 30 texts totalling 673,240 words). I then used a concordancer to produce lists of words in context. In this way I was sure of the relevance of the words I discussed. My Peake 'vocabulary' by frequency is available; I have taken out a few of the non-words that scanning throws up, so the total is more like 21,600 items than the slightly larger number at the end.
The Voice of the Heart was accepted for publication on the basis of a reader's report which began:
This is the most important book on the greatest English writer-illustrator of the twentieth century, written by the world's foremost expert on Peake. Winnington has spent a lifetime acquiring insights about Peake that have an accuracy and sympathy that nobody else's work has so far matched. The many often startling perceptions he offers us about Peake's creative process are gleaned from careful consideration of the texture of his prose; and he has ordered these perceptions into well-conceived themes or topics, each topic forming the subject of a chapter that deals with one of Peake's recurring obsessions: solitude, animals, islands, symbols, perspective, and so forth.…
As I read, I was delighted afresh by things I had noticed before about Peake, and astonished by observations I had never made but which seemed perfectly obvious once they'd been stated. I was also increasingly convinced of the man's artistry....
These are grand statements, but The Voice of the Heart elicits this kind of fulsome praise. It is a book by an enthusiast for enthusiasts, as well as for the general reader, and will kindle or rekindle anyone's delight and admiration in an artist whose stature is growing by the decade.
Reviewing the book in the TLS on 9th March 2007 (p.27), David Malcolm (a professor of English literature at the University of Gdansk in Poland) found it a "thorough study" of Peake's work.
Winnington's argument is generally clear and persuasive, and his discussions of Peake's interest in eyes, voices and quasi-animals (slippery in terms of species and gender) are suggestive. In addition, there are useful passages here on Peake's narrational technique (multiple, shifting points of view, extensive free direct and indirect speech), connected intelligently with the overall topic of solitude.
However Professor Malcolm's closing sentence called Peake's drawings "a little winsome for some tastes" and his novels "a shade adolescent", leaving the reader with a somewhat negative impression.
In Books in Canada (September 2007) Jeff Bursey contended that the illustrations "add a necessary dimension" to VoH. They confirm the "themes that wind their way through all of Peake's works" and demonstrate that Peake's pre-occupations were "far removed from being adolescent". Qualifying David Malcolm's judgment as "a kind of snootiness", he continued:
Winnington plumbs the depths in Peake's writing, and it would be fair to say that some of these depths once looked like fairly shallow pools. They can't be regarded as such any more. Those who read or write on Peake or his works – or, more generally, on voice, evil, technology, or art versus religion in 20th century literature – must take into account what has finally been exposed. By cross-stitching commentary, weaving drawings and writing together, Winnington, using plain, unencumbered prose, shows how Peake explored certain themes with the hunger and ache of an obsessive.
Bursey called VoH "a bravura critical performance" and concluded: "A critical book that is both respectful of its subject and audience, as well as enthusiastic about the author under discussion, is a rare thing."

Rob Maslen (senior lecturer in English literature at the University of Glasgow), who edited the Collected Poems of Mervyn Peake, reviewed VoH at length in Peake Studies (10:iii for October 2007). For him, the book
demonstrate[s] beyond all doubt … that Peake was a deeply committed artist, a serious thinker and a meticulous craftsman whose texts and pictures richly reward close scrutiny. [It] also shows that Peake's work is best understood as a whole, since his visual art and his writing spring from the same imaginative processes. These processes Winnington investigates with the kind of inspiring thoroughness lavished on Coleridge by Jonathan Livingston Lowes in The Road to Xanadu.…
And he has found an original and highly successful way of drawing together the multiple strands of Peake's creativity in each successive chapter.…
The chapter headings are skilfully chosen, and their subjects so thoroughly yet lucidly explored that one ends by imagining one has thought them through for oneself. And they accumulate into a remarkable portrayal of a creative mind at work, which should be recognized as making a significant contribution to our understanding of the creative process itself and of the relationship between one art form and another.…
Towards the beginning of The Voice of the Heart, Winnington writes, 'There is a sense in which the first two books about Titus Groan recapitulate at great length the development of a work of art (whether visual or verbal) and the third dramatizes its existence in the outer world'. It is a measure of Winnington's achievement that he ends by convincing us not just of the truth of this statement, but of the fact that this process of developing a work of art is effectively Peake's topic in everything he writes; that he is in fact one of the great writers about the responsibilities of the artist. Everyone who admires Peake's work will be delighted by this book; and from now on, nobody who writes about Peake will be able to do so without paying it homage.
The book was also reviewed in July 2010 by Adam Piette in issue 5 of Blackbox Manifold:
Peter Winnington has written a sharp and scholarly labour of love with Voice of the Heart. The book charts key themes in Mervyn Peake's work in a brightly old-fashioned way, and it bears good fruit. He looks at motifs like the heart, islands, birds, the theatre in the writing and artwork, and discovers a range of consonances and threads which will be of real value to Peake readers.
View the table of contents; the index, and the page for corrections.
I should add that Alice Mills wrote a disingenuous review of The Voice of the Heart in which she accused me of plagiarizing ideas from a book which she knew I had not read – she had asked me about it around the time I finished writing VoH, and I had told her quite clearly that I knew of it but not read a word of it.
As it is, she should have declared an interest: when she finished writing her dissertation, three people were asked to assess it for her Australian university; two were women (one in the US and one in Canada) and I was the third. We agreed that her puerile Freudian reading of Peake's work and vacuous theorizing did not merit a doctorate. That review was – I suppose – her revenge.
I recently compiled a selection of my articles on Peake. Further information here.
Back to the Peake Studies home page.